About MDeyes
Antioxidants can assist in protecting from free radical and oxidative damage

MDeyes may help support the protective macular pigment of the retina

Features precise ingredients used in clinical trials
MDeyes Once Daily macular health formula was specifically developed to provide precise nutrients that support the protective macular pigment and to help maintain overall eye health. This comprehensive supplement delivers a complete macular health formula in a convenient ONCE DAILY dosage.
Antioxidants and Free Radicals...
Everybody produces free radicals every day – they are generated within the body through a variety of mechanisms. Antioxidants act as 'free radical scavengers', and many free radicals are taken care of by the body's own free radical antioxidant defences. However, there are some free radicals that elude these defences, resulting in cellular damage. Research suggests that free radical cellular damage can accumulate over time. Antioxidants such as Zinc and Vitamins C and E, can assist in protecting from free radical and oxidative damage.
Lutein, Zeaxanthin and Macula Health...
Lutein and Zeaxanthin are carotenoids naturally found in the human eye, with the highest concentration
found in the macular area of the retina. In the macula, Lutein and Zeaxanthin naturally form a layer called the macular pigments and filter high-energy blue light. Higher macular pigment density is associated with healthier eyes and supporting visual sensitivity.
MDeyes Formula & Dosage...
MDeyes Once Daily Capsules: Adults – Take 1 capsule per day, with or just after food, or as professionally prescribed.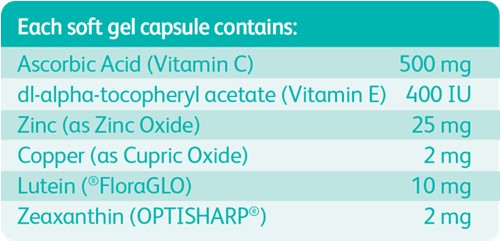 Featuring ®FloraGLO Lutein and OPTISHARP® Zeaxanthin


Each pack of MDeyes Once Daily Capsules contains 28 soft gel capsules.
Physical Description - Brown Soft Gel Capsules packed in 2 x calendar-labelled blister foils with 14 capsules in each blister (4 weeks per pack).
MDeyes Supports Dosage Compliance...
MDeyes' innovative packaging helps you receive the supplement's full benefits, by helping you remember your daily capsule. Calendar labelling on the blister foil and the unique tracking grid on the back of the pack help to ensure your daily dosage compliance.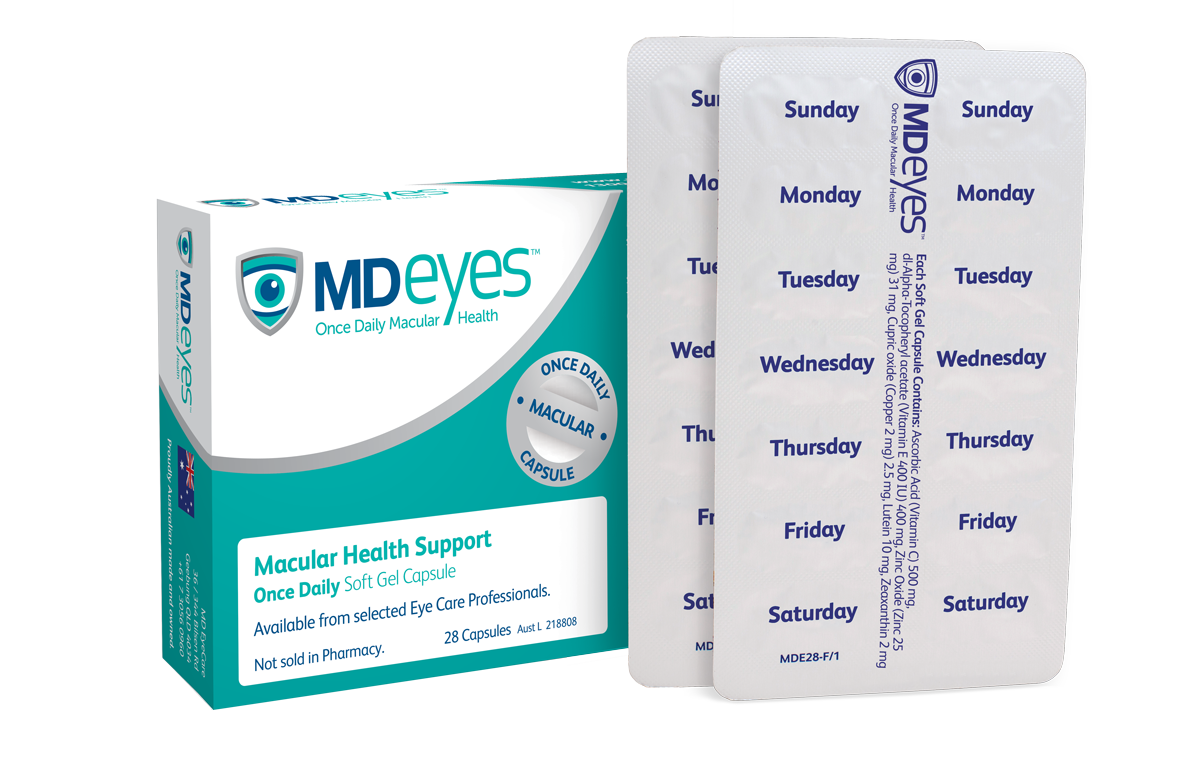 Contraindications...
Use only as directed.
Not recommended for use during pregnancy and breastfeeding.
Not recommended for children under 18 years.
With all supplements there is always a possibility that individuals may be intolerant to specific ingredients.
Consult your Eye Care Professional or Medical Practitioner, if you have any concerns.
®FloraGLO is a registered trademark of Kemin Industries, Inc. and OPTISHARP® is a trademark of DSM.
In Australia, the maximum recommended daily dose of Zinc in a listed (non-prescription) medicine must not provide more than 50mg of Zinc/day. Zinc supplementation greater than 25mg/day but less than or equal to 50mg/day requires appropriately labelled cautions (Schedule 4, Poisons Standard 2013. SUSMP No. 4).