Where can I buy MDeyes?
We offer several secure and easy ways to purchase MDeyes.
​MDeyes is available through selected ​Optometrists. Call us on 1300 95 2001 to locate your nearest Optometrist stockist.

MDeyes is also available direct.

Click here to Order online

and pay with Visa, MasterCard or PayPal.

Call 1300 95 2001 or 07 3056 0960 and we will happily process your order. You can pay with credit card or alternatively we can send you a 14 day account with your order. This account can be paid via BPay, cheque, money order, or direct deposit at a bank.

Click here to print the Australian Mail Order form, which can be paid by Credit Card, Cheque or Money Order. (Only for Australian Customers)
How is MDeyes delivered?
We use either Fastway Couriers or Australia Post, depending on your location. Delivery can range from 1-5 days, so please allow for this when you need to re-order.
Why can't I buy MDeyes in Pharmacy?
Our goal is to keep the cost to customers as low as possible. By purchasing MDeyes directly from MD EyeCare, you avoid the mark-up associated with traditional retail outlets. This ensures that you receive a high quality supplement at an affordable price.
How often do I need to take MDeyes?
The MDeyes capsules are cleverly blister packed with clear calendar labelling to help you remember your daily capsule.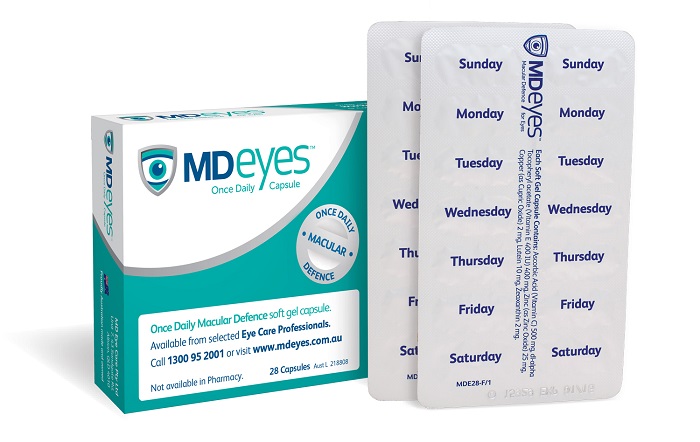 Are there any negative side effects?
It is possible for certain individuals to be intolerant of individual ingredients. If you have any concerns please speak to your Eye Care Professional or contact us directly.
Do I need to take MDeyes with food?
It is generally thought best to take your MDeyes with or after food, during the day, and preferably in the morning.